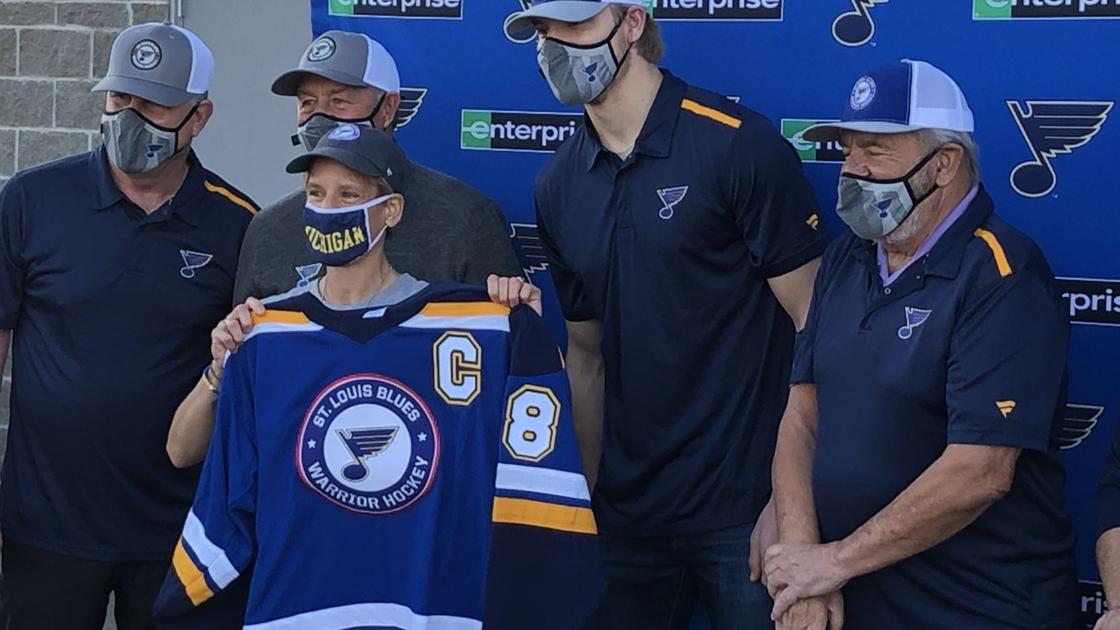 These military veterans love the look of their new uniform, complete with a Bluenote | Morning skating
For a group of people who have worn uniforms for much of their adult lives, Thursday morning's ceremony at the Centene Community Ice Center was something special.
Members of the new Blues Warrior hockey team, a group of wounded and disabled military veterans, received their playing uniforms, blue with white and gold stripes and a blue note inside a circle with the team's name after their Thursday morning practice, just before the team's first game on Saturday against a Kansas City Warrior team. Among those in attendance for the presentation were Blues owner Tom Stillman and defenseman Colton Parayko, as well as Hall of Fame member Bernie Federko and Blues legend Bobby Plager.
So far the players had their black, white and gray training jerseys on, but on Thursday they got the real one, in living color.
"It means the world," said Tim Taylor of O'Fallon, Mo. "I've wanted to be a part of a team since I came out of the military. It's more of an individual lifestyle. and hockey is where I get that camaraderie and that teamwork, and playing with other veterans, it's just, it's amazing. It's a great opportunity. I love it. "
"A lot of us grew up with huge Blues fans," said Nathan Laupp of Defiance, the ex-Marine who started the team and is the starting goalie for his best team. "Watch guys like Curtis Joseph and Brett Hull and Bernie Federko. Now having the chance to turn to the Blues and they say yes you can wear the Bluenote, that means so much. It almost makes you dizzy.