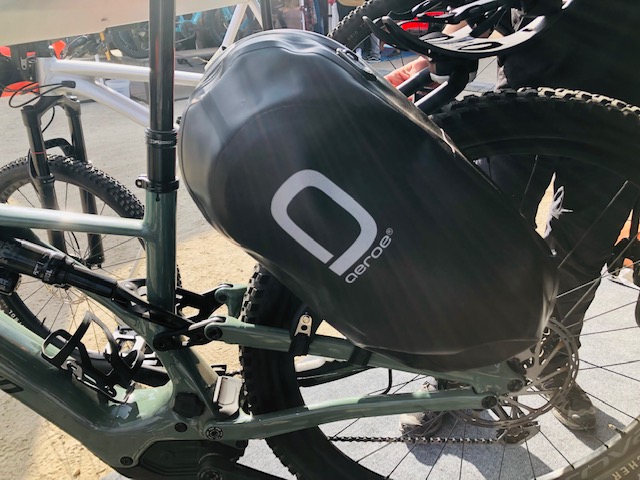 New products unveiled at Sea Otter
MONTEREY, Calif. (BRAIN) – Brands traditionally reserve their new product launches for the Sea Otter Classic in the spring, and the latest festival has had its share despite being held in the fall due to the COVID-19 pandemic.
Here are some of the new products that BRAIN has encountered:
Aero: The New Zealand-based rack, bag and accessories company will now distribute to retailers in North America. Aeroe products will be in 22 MEC stores across Canada over the next few weeks. BTI also distributes Aeroe, and US retailers are sought. Its bags, which also include a hard-shell pod, attach via the Spider rear rack that adapts to any frame, from mountain bikes to road bikes. The attachment system is adjustable to fit any seatstay and allows the bag to be positioned out of the way, allowing for pedal / foot clearance and even weight distribution. The rack can accommodate any bag or sleeping bag. Additional brackets are also available for mounting the handlebars and the fork.
Yakima: The bike rack and cargo accessories company has unveiled two racks that will be released later this year: the StageTwo (two and four bikes) tray and the HangTight vertical. The StageTwo has a refined finish and is available in two color options (anthracite and vapor). Compatible with e-bikes, each StageTwo chainring is designed to support up to 60 pounds. It's RV rated to haul any bike, the first Yakima chainring rack to hit the market. The StageTwo replaces Dr. Tray in the range. Additional accessories include a kit for transporting large bikes and the SafetyMate brake light and turn signal kit with license plate holder. An adjustable ramp kit that attaches to the deck is also available to make it easier to load e-bikes. The StageTwo was supposed to hit the market about six months ago, but was delayed so the company could focus on manufacturing existing racks to meet demand. The HangTight (four and six bikes) joins the HangOver vertical range. Unlike the HangOver, the HangTight will carry drop bar bikes and kids' bikes with handlebar mounts.
TASCO: Addition of a trail pant shell to its Scout line. Made with Repreve, which is a performance fiber made from recycled materials, with 23 water bottles making up trail pants. It features a Lycra Fly closure, spring-loaded snaps, an adjustable waistline, and a tapered leg with an elastic ankle cuff. For summer riding, the enlarged hip pockets also serve as ventilation holes.
Ergon: Introducing the SR Allroad Core Pro saddle for men, featuring a vibration damping material developed by BASF called Infinergy, a thermoplastic polyurethane foam. It is designed for gravel / comfort riding or general road use. Previously used on comfort models, this technology is now applied to a racing saddle. Available with carbon, titanium and chromoly rails.
Bimotal: The Elevate is a removable 750 watt electric drive system that mounts above the rear disc brake bracket. Weighing 5.9 pounds, including a battery mounted on a 250 Wh water cage, the estimated range is between 15 and 30 miles. The assistance is modulated with a programmable accelerator and the pedaling assistance is under development. The price of $ 1,950 includes delivery and professional installation.
Fox race: The Mainframe helmet has many of the same features as the Speedframe, but at a lower price point ($ 89.95 for an adult, $ 79.95 for a youth). Like the Speedframe, the Mainframe is equipped with MIPS and has received Virginia Tech's top security rating of 5 stars. It optimizes ventilation with channeled and molded EPS to provide cooling. The helmet has extended back coverage and a removable liner.