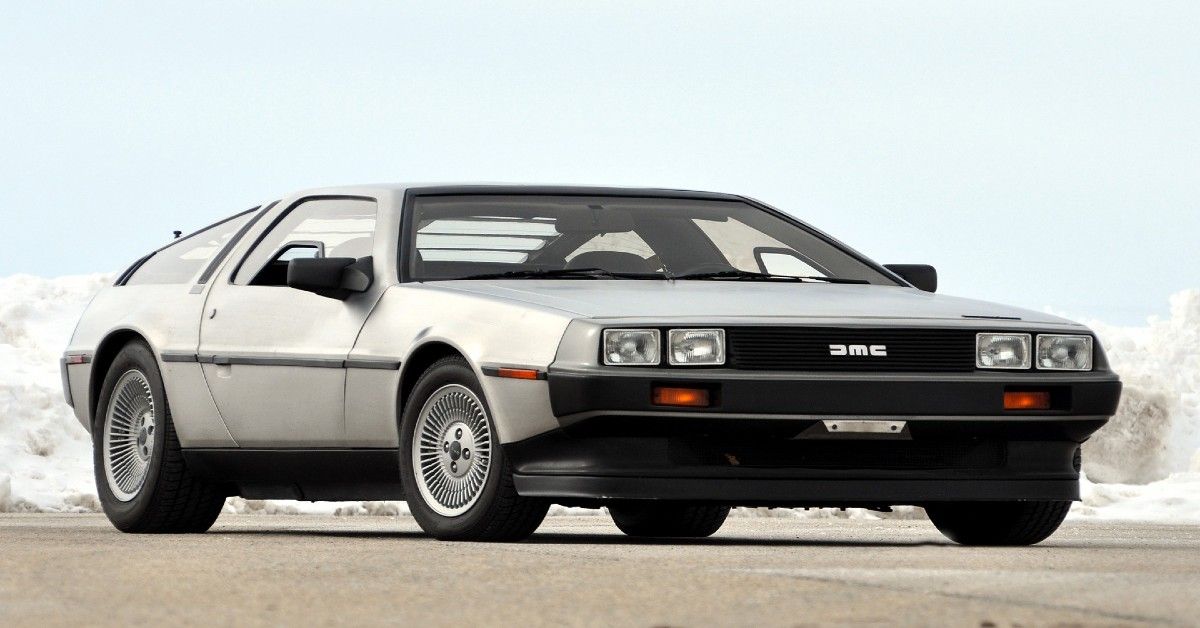 Detailed review of the DeLorean DMC 12
In the 1980s there was a paradigm shift in car design, and various manufacturers tried to leave their mark on history and created some of the best cars. But nothing denoted uniqueness like the DeLorean DMC-12, which today enjoys its cult status. The prototype appeared in October 1986, and it was called DSV-1 but ultimately it was called DMC-12.
DMC (DeLorean Motor Company) was an American automobile manufacturer founded in 1975. The company became known through its sports car called DeLorean. It's a 2-door coupe, a rear-mounted sports car with butterfly doors. This car debuted on January 19, 1981, but production did not last long. In December 1982, the company went bankrupt and only 9,000 DeLorean units were produced. Even though the DeLorean was popular, it lacked good build quality and an engaging driving experience. Yet this car has played a role in many films thanks to its appearance and the most notable appearance was in the Back to the Future franchise, where the car was built like a time machine.
Fasten your seatbelt as we step back in time to take a closer look at this unique sports car.
DeLorean DMC 12's Performances
The DeLorean was fitted with a 2.8-liter SOHC PRV (Peugeot-Renault-Volvo) V6 engine. This engine produced 130 hp at 5,500 rpm and 153 lb-ft of torque at 2,750 rpm, which was pretty impressive. To cool the engine, the car had a front mounted radiator with two electric cooling fans. The DeLorean was able to sprint from 0 to 60 MPH in 8.8 seconds with the 5-speed manual transmission model and in 10.5 seconds with the automatic. The top speed of this so-called sports car was 109 MPH, which could be considered not fast enough for a sports car.
All four wheels had independent suspension with coil springs and telescopic shocks, and power disc brakes.
DeLorean DMC 12 exterior
DeLorean was designed by Giorgetto Giugiaro of Italdesign. The long hood, wide body and gullwing doors gave this car a spectacular look. There were no color options available as it was covered with stainless steel. Interestingly, three of the 9,000 units were 24k gold plated at the request of buyers.
There weren't many cars with a butterfly door when the DeLorean first hit the market. These doors were heavy, operated by a cryogenically present torsion bar suspension and nitrogen-charged struts. They also had small cut windows instead of full windows, which operated electronically.
Inspired by Lotus Esprit, the underbody is attached to a double Y steel frame. The hood of the 1981 model came with descending groves on both sides and also had a fuel filler hatch. The model was modified in the 1983 model and the metal emblem of DeLorean was placed on the right corner of the hood.
Cost alloy rims were used in this car, the wheels and center cap were painted gray and the DMC logo was embossed on the center cap. These were later painted with polished silver and the center cap was colored black for better contrast.
The DeLorean also weighs around 2,718 pounds, which is pretty light.
Related: These are the things everyone forgot about the DeLorean DMC-12
Interiors of the DeLorean DMC 12
The seats were known to be quite comfortable, covered in leather, and behind them was a small storage space. It also featured a rack and pinion wheel proportional to speed. Interior trim was available in only two colors: black and gray. The car was equipped with air conditioning and a sporty dashboard. It was surely not the most impressive cabin layout, but it was certainly unique.
Related: DeLorean DMC-12 Looks Set For A 2021 Return With Italdesign Tease
The DeLorean DMC 12 Award
The cost of a 1981 DeLorean was $ 25,000 when it was launched, while the 1982 model was priced at $ 29,825. The 1983 model was priced at $ 34,000 due to all added features and design changes. There are unique models of the DeLorean in the world, such as gold plated models, right hand drive models and many more. Now, 6,500 DeLorean are still on the road. The price / horsepower ratio was considered a bit odd, but people enjoyed the smooth driving experience. Even after all of its shortcomings, many enthusiasts continue to seek out available versions of the DeLorean DMC 12, and thanks to its starring role in a cult movie, it has become a cult car worth collecting.
Next: 1981 DeLorean DMC-12 with Back to the Future modifications on Hemmings
Richard Hammond announces new Discovery + salon that restores classic cars
He teamed up with two mechanics who helped him restore a Jaguar XK 150.
Read more
About the Author